Ah, another day, another political post on Facebook. Another one that makes me frustrated, and demands me to respond.
Here was today's item of note: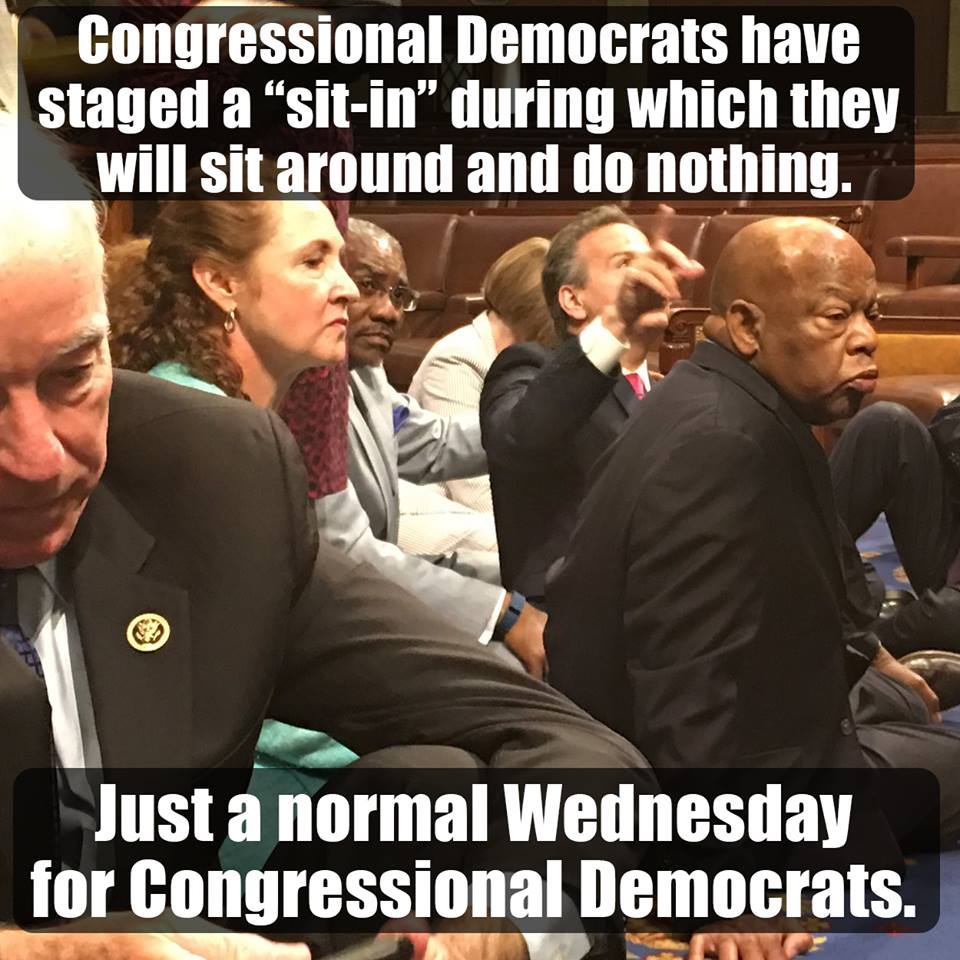 Sounds like Congress in general, really.
Let's take a step back, though. They were "doing nothing" because the Republican speaker of the house ended the session, rather than doing the work that the Democrats were asking them to do. It wasn't difficult work, either. All they wanted was to vote on a bill. A vote they knew they were probably going to lose, but a vote they wanted to occur nonetheless.
Since that's their job, to write, debate, and vote on legislation, one could argue that the Democrats were more about getting their job done than the Republicans.
But no. Instead of allowing the vote to occur, the speaker prematurely ended the legislative session and left. So, who is choosing to be "doing nothing" in this situation?
Look, I get that both sides suck. They both play political games, they both game the system to get done what they need to get done. More often than not it's using childish tactics to stop things they don't like from happening. It doesn't get us a functioning government. It gets us polarized and gridlocked politicians, which leads to polarized constituents who will de-humanize members and supporters of the other side. And once your opposition doesn't have a normal human face anymore, it's far easier to attack them.
It's far easier to attack the faceless monster in Washington DC, or the faceless slut, or the faceless fag, or the faceless moron, or the faceless clown. What does it matter, it's just a Facebook post, right? "If you disagree with me, why don't you just unfriend me!" Because then you live in even more of an echo chamber, regurgitating the same views that everyone else around you has, despite being in the minority overall. "Everyone I know thinks …." How many people do you know? Do they all agree with you on almost everything? Maybe you need to meet more people, find some people with whom you disagree. Get to know us, we're not all monsters or clowns. Morons, maybe.
What I find frustrating is the constant implication that one side or the other is un-American, or worse, anti-American. I believe, quite firmly, that most Republicans in politics are firmly committed to doing what they believe is best for the country. I do. I believe the same for the Democrats, and for the independents. The problem is that those views are so opposed in many ways that they are directly incompatible. If we could just shut up for a few minutes and actually have reasonable conversations about the issues, we might find consensus and common ground. I'll bet a lot of gun-rights activists could find common ground with those who are vehemently anti-gun if they would put away the rhetoric (and possibly the guns, at least holster them ;)) and talk. The same goes for the abortion debate. The same goes for the religious rights debate, for healthcare, for drugs, for gay/lesbian/transgender rights.
Stop de-humanizing the other side. They have thoughts, feelings, and opinions too. They're just as valid as yours — you might even agree with one or two of them.